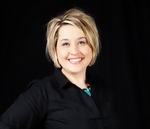 (210) 426-3000
(210) 426-3015 fax

8627 Cinnamon Creek Ste 302
San Antonio TX, 78240

Receive Email Alerts from Me

Jamie, originally from North Dallas, has been working in the Real Estate Industry for over 3 years in various support and office management roles. Jamie managed the purchasing of homes for a hedge fund for over 2 years. Now she is working as Crowned Eagle Realty's Operations Manager providing full support for all our accounts as well as provides assistant for the Broker, Dan Kubinski . Jamie runs all the marketing, transactions for brokerage as well as support for all of Crowned Eagle's Agents.